2 Days Until the 12 Days of Christmas EVENT on Joy's Life.com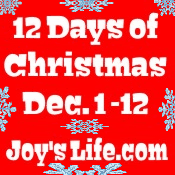 I've been planning this event for quite a while and I'm soooo excited about the sponsors who have so generously donated things for you to win!!  I have some very special things to give away too. 😀  We'll get started on Wednesday morning!!  I'll have a Give Away and a crafty post EVERY DAY for 12 DAYS!!  But wait, there's more!
Woo hoo!!  On Sunday, Dec 12, I hope you'll join me for a fun blog hop.  Some great ladies will be joining me in creating (something we all need) thank you gifts!  You know those little gifts we need for teachers, mailmen/women, neighbors, etc?  It makes the holidays so much easier when we keep a few of those on hand, don't you think?  We'll have a great time that day as well as all of the 12 Days of the Christmas season we'll be enjoying together.
12 DAYS OF CHRISTMAS EVENT>>>STARTING WEDNESDAY RIGHT HERE!! 😀